Art In The Pearl  Stage
This year the Art in the Pearl stage is going through some major changes and we are looking forward to a new focus.  We are currently accepting applications from Singer/Songwriters presenting all original work.  Please send group name, genre, web address for music sample, and contact information to Ann Fleming at artinthepearlmusic@gmail.com with Art in the Pearl in the subject line.  Thank you!
Below is the schedule from our 2013 show:
Day 1 – August 31, 2013
Day 2 – September 1, 2013
10:30am – 11:00am

Youth Expression Project - http://mrgoss.wix.com/yep
Performing art/spoken word
11:00 am - 12:00 pm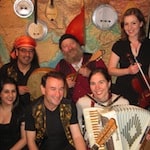 Moh Alileche Ensemble - http://www.reverbnation.com/mohalilecheensemble
Kabyle Folk  (Berber/Algeria)
Moh Alileche's music celebrates Amazigh culture, also known colloquially as Berber, who wee North Africa's first known inhabitants.
12:30 pm – 1:30 pm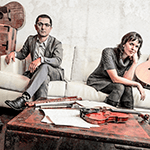 Hanz Araki and Kathryn Claire - http://www.hanzaraki.com/
Celtic
Award-winning Irish flute player and singer Hanz Araki is the quintessential world music musician. After six generations, the name Araki is synonymous with the Japanese shakuhachi (an end-blown bamboo flute) which Hanz mastered, making his professional debut in 1988.
After four years of concert appearances and teaching at the prestigious Keio University in Tokyo, Japan, Hanz returned to his hometown of Seattle, WA and found himself drawn to the world of Celtic music. The penny-whistle and the Irish flute became his single-minded focus, and jigs and reels became a second language. His unique style and passion laid a path to a twenty-year career in Irish music.
Hanz also discovered his voice was well-suited to the songs of Scotland, Ireland, and England. He is highly regarded for his interpretation of folk songs, many considering him one of the finest singers in this exciting and living tradition.
After several tours across the US, Canada, and the UK (first with the Juno Award winning Paperboys, then Casey Neill) as well as a return to Japan, now as a well-respected Irish flute-player and singer, Hanz moved to Portland, Oregon in 2006. This move proved to be most fortuitous as it led to the musical partnership with Kathryn Claire.
A self-taught guitarist and accomplished vocalist and fiddle-player, Kathryn has asserted herself in a new generation of traditionally-inspired musicians. Her violin-playing exhibits a technical grace which is matched only by her truly captivating voice. While she possesses the rare ability to move seamlessly across genres, her love and deep respect for traditional music has long been a driving influence, and those roots can be heard in her own original music. 
Early classical training gave her a strong foundation, but naturally gave way to her own creative inclinations. Kathryn taught herself guitar at a young age in order to explore her own voice as a songwriter and accompanist and has developed a hypnotic, driving accompaniment style. She has spent years cultivating her craft as an instrumentalist, singer, and songwriter. 
Kathryn and Hanz quickly discovered their shared love of harmony, and a creative process began that has produced a tremendous body of work. Their shared passion for traditional music is magnetic and they have become a favorite at music festivals and venues in the US and abroad.
2:00 pm – 3:00 pm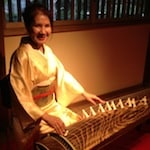 Masumi Timson with Noriko Dozono, Fumino Ando, and Richard Crandell - http://www.masumi-koto.com
Japanese Koto and Violin
The Koto is the traditional and national musical instrument of Japan , and it was introduced to Japan in the 7th century from China as part of the royal court music ensemble. Until around the 15th century, it was played exclusively in the court tradition to accompany court songs on ceremonial occasions. By the mid 17th century, it became widespread outside of the court music ensemble and enjoyed by ordinary people.
The koto is about six feet long and ten inches wide, and has thirteen strings of equal size and tension. A bridge is placed under each string, and moving these bridges up or down results in an infinite range of tunings. Various modifications of sound are made by pressing or pulling the strings with the left hand. Although the koto is a Japanese traditional musical instrument, it can played in collaboration  with western musical instruments such as violin, piano, and flute, to explore  a wide range of musical genres.
3:30 pm - 4:30 pm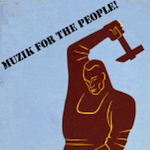 Yiddish Republik - http://www.yiddishrepublik.com/
Klezmer-Ladio-Gypsy-Chanson-Early Jazz
Yiddish Republik picks selections from the vast repertoire of Eastern European and Central European music that inspired Klezmer musicians as the root of our sound. We also are entranced by the inventive improvisations of Jewish musicians jamming with early jazz and blues musicians, resulting in the vital early Jazz era music that is still relevant today.  So we could, if pressed, describe our sound as "early jazz age/European cafe/eclectic Klezmer/Yiddish theater.
We like to say, imagine a small nightclub in Budapest in 1938 with an international audience, and that is what you might hear when you encounter Yiddish Republik.  Our music is great to listen and to dance to.
5:00 pm – 6:00 pm
Contigo
Afro World Music
Contigo blends Universal Melodies and African based rhythms form Cuba, Brazil, Jamaica and America.
Day 3 - September 2, 2013
10:30am – 11:00am

Youth Expression Project - http://mrgoss.wix.com/yep
Performing art/spoken word
11:00 am - 12:00 pm
Farajah
Mid Eastern
The transformative music of Farajah will carry you to the Middle East, much like the Arabian butterfly for which the band is named
1:00 pm - 2:00 pm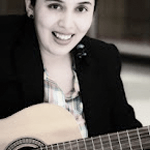 Edna Fabiola Vazquez Diaz - http://www.opb.org/thinkoutloud/shows/edna-vazquez/
Solo/Guitar
Troubadour
Original music and songs: Love related, also some songs with lyrics referring to strong political and social problems happening today
2:30 pm – 3:30 pm
Bon Ton Roulet - http://bon-ton-roulet.com/
Cajun/Zydeco/Folk
Bon Ton Roulet grooves high-energy zydeco, cajun, and folk together in the heart of the Willamette Valley bayou, OR. The conception of this band occurred while plunking the guitar, squeezing the box, rubbin the ole washboard, and drinking homebrew on many Corvallis porches. We love to play at parties, breweries, weddings, festivals, and generally wherever folks like to dance to zydeco. Laissez le bon temps roulet!
Vocals and Fiddle: Annie Rosen
Accordions: Ted Hart
Bass: Dominic Maze
Drums: Dave Muldon
Guitar: Eran Schwitzer
4:00 pm – 5:00 pm

Toshi Onizuka Trio - http://toshionizuka.com/
Latin Fusion
Toshi Onizuka - guitar Toshi is originally from Tokyo, Japan, lived as a professional musician in Sevilla, Spain for 5 years so he has a strong flamenco influence to his music.  Toshi has been in Portland since 1999.